Lafeber's Premium Pellets
The oldest developer of commercially formulated pelleted nutrition for pet birds. They have been producing this fine product since 1975. With avian medicine and nutritional research constantly progressing, this company consistently has updated their pellet formulations as warranted by new research data. The BIRD Clinic has carried Lafeber products since 1987 and Dr. Nemetz fed his own personal Blue and Gold Macaw "Too Big" lafeber's pellets as her only diet for 18 years.
Dr. D's Plant Pro Pellets
Dr. D's pellets are produced from 100% plant origin. No animal products are used in its production. Each lot is tested by the University of Michigan for bacteria or potential toxins. Because of these high standards, Dr. Nemetz selected Dr. D's pellets for a six year comparative nutritional study in breeding african meyer's parrots. The results proved in meyer's parrots that Dr. D's was superior for health and baby production when compared to a seed/vitamin diet or the Kray diet (rice, bean, corn, dog food, vitamin). We always carry this product for our research birds and for our clients.
Roudybush Pellets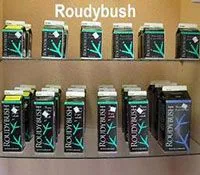 Tom Roudybush, Ph.D. started his nutritional research in 1979 using the cockatiel as his model. Dr. Roudybush has published many excellent papers regarding the nutrition of pet birds and in Dr. Nemetz's opinion "wrote the book on cockatiel nutrition". Since the initial studies the Roudybush company has expanded the pelleted line to serve all species of pet birds and The BIRD Clinic is pleased to now carry their product.
In addition to the three fine pellet companies above, birdStuff carries:
Harrisons 100% organic pellets
Hagan Tropican pellets
Scenic Pellets (Jungle and Paradise)
Zupreem Pellets.
All of these products can be purchased at birdStuff: www.birdstuff.com